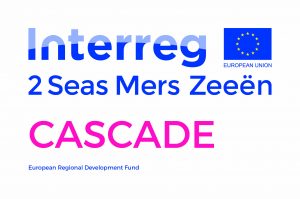 CASCADE – Community Areas of Sustainable Care And Dementia Excellence in Europe – is part of the Interreg VA 2Seas programme and will run from 2017 to 2021. It has a budget of €9,295,278.40 and  there will be regular updates on progress as this exciting project develops
It aims to develop a financially sustainable approach to elderly dementia care that can be replicated across Europe. Uniquely, it will exploit existing unused public housing stock to create facilities providing both short-term respite care as well as longer term residence. The facilities will also fully engage with the local community, offering opportunities for shared use and everyday interactions. The premises will also be a hub for telemedicine and enable a cascade of shared learning and cross-border excellence in dementia care for the future.
The Health and Europe Centre is the Lead Partner for this project and there are partners from Belgium ( Emmaus, the Flemish Expertise Centre on Dementia, Residential care Holy Heart), the Netherlands (Zorgsaam, HZ University), France (the University of Lille) and the UK (East Kent Hospitals University NHS Foundation Trust, Medway Community Healthcare, and Canterbury Christ Church University).
There are also a number of observer partners – organisations that are very interested in the project but aren't able to be full partners.